Servo Motors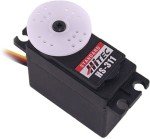 These are another kind of DC motors ,but with a built in gearing Feedbck System. These servo motors come in many varieties and can from 0 to 180 degrees. Some rotate through a full 360 degrees or more.
They are extremely popular with RC plane,boat and Robots with precision handling like arms and legs.
And most of all these do not need any motor drivers circuits
A thing to note is that servos are unable to continually rotate, meaning they can't be used for driving wheels. There is a modification provided to do so at Society of Robots
Method to Drive a Servo
The servo normally has Three wires with it. Connect the black wire to ground, the red to a 4.8-6V source, and the yellow/white wire to a signal generator (such as from your microcontroller). Vary the square wave pulse width from 1-2 ms and your servo is now position/velocity controlled.
READ MORE….
Read More